History & Cemetery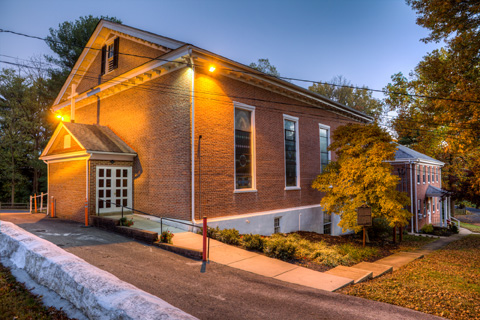 Named for its location near the headwaters of the Christiana Creek, Head of Christiana Presbyterian Church is a historic church just west of Newark, Delaware. The  congregation was established in 1706 by Scotch-Irish immigrants. The current structure was built in 1859 and is a one story, four bay gable roofed brick building. Adjacent to the church is a four and a half acre church cemetery with burials dating back to the mid-18th century. After more than three centuries the congregation continues to serve the local community and the wider community of God.
Early History
The first Presbyterian services in this area were conducted by Rev. John Wilson in 1706. Then pastor of New Castle Presbyterian Church, Rev. Wilson came every other Sunday to minister to the many residents of this area who had immigrated from Scotland and Ireland. In 1708, a modest log structure was erected on land owned by John Steel. The first installed pastor was Rev. George Gillespie, a native of Scotland, who arrived in 1713 and served until his death in 1760. During his tenure the log building was replaced by a brick structure which served the congregation until it was destroyed by fire in 1858. Within one year, the present church was built, and while alterations have been made, the basic structure remains intact.
Head of Christiana Cemetery
---
The Head of Christiana Cemetery occupies roughly four-and-a-half acres north of the Church, with the oldest tombstones clustered near the Church and the more recent ones located farther north toward Nottingham Road. Several tombstones date from the mid-eighteenth century  and include many notable Newark area persons as well as thirty-six Revolutionary War patriots.   However, the majority date from the  mid-nineteenth century to the present. A stuccoed stone wall surrounds the cemetery.
The cemetery is managed by the Head of Christiana Cemetery Association and calls relative to burial lots and Columbarium sales and burials, information about those buried in the cemetery and their location, and financial matters may be directed to:
R. T. Foard Funeral Home
Head of Christiana Cemetery Caretaker
111 S. Queen Street, Rising Sun, MD 21911
302-731-4627