Outreach
Presbyterians are called to bear witness to the love and compassion of Jesus Christ through serving people in all places and circumstances, with particular attention given to the poor and the powerless.
Our members serve as volunteers, board members, and advisors to Meeting Ground, Andrew's Place  (we prepare and serve dinners one Sunday each month), the Elkton Community Kitchen, and Hope Dining Room.  Each spring our annual Triple Crown Race brings runners from across the continent to compete in cross-country marathons through beautiful White Clay Creek State Park to raise thousands of dollars for local homeless shelters.
Discover how you can participate in our outreach activities:
Triple Crown Trail Race
Every April since 1998, HOC in conjunction with the Trail Dawgs sponsors the Triple Crown Trail Race, perhaps the largest church-run event of its kind in the country.
Held at White Clay Creek State Park in Newark, Delaware, the race annually attracts 700 or more participants from around the U.S. – and even foreign countries. Runners choose from a slate of races: full or half-marathon, 10K or 5K or the challenging Triple Crown – a 22.4 mile, steeple-chase-like trek through woods and water, with runners completing a half-marathon, quickly followed by the 10K and concluding with the 5K. A BBQ lunch follows all races and runners receive shirts, souvenirs and awards.
Proceeds benefit area homeless shelters with more than a quarter-million dollars benefiting these causes to date.

Meeting Ground
Meeting Ground operates Wayfarers' House in Elkton, MD, Wayfarers' House, Settlement House, George Porter House and the Mary Randall Center, places of hospitality and refuge for the homeless since 1982.
Head of Christiana budgets funds for Meeting Ground each year, and members donate goods and volunteer their time and services.
Settlement House – Cecil County Men's Shelter
Settlement House – Cecil County Men's Shelter Located at 168 W. Main Street in Elkton, this shelter houses about fifteen single, homeless men, many of whom are military veterans.  In addition to monetary support from Head of Christiana, several members have taken leadership roles in establishing the shelter, serving on its board, and assisting with the maintenance and repairs.
Andrew's Place
Andrew's Place is a full service emergency shelter that offers its guests both hospitality and empowerment.  The shelter is able to provide 25 residents each night with a hot shower, a home-cooked meal, a warm bed, and a safe place to spend the night.  Head of Christiana began working with Andrew's Place in October of 1993.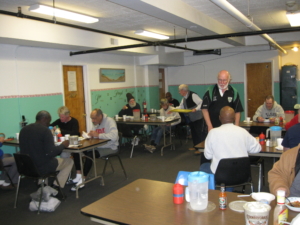 Hope Dining Room
All who are hungry and in need of a hot meal can come to Hope Dining Room.  Head of Christiana supports this program with donations of time, food and money.  Hope Dining Room is located in the social room of Kingswood United Methodist Church on Marrows Road and Brookside Boulevard in Newark.  Hot meals are served every Monday, Wednesday, Thursday and Friday from noon to 1pm.
Elkton Community Kitchen
Head of Christiana prepares and serves food at the Elkton Community Kitchen.  HOC also has a long history of providing volunteers services, organizational leadership and financial support to ECK on an ongoing basis.  The Community Kitchen is open every Friday from noon until 1:00 pm at the Elkton Presbyterian Church. The meal is served buffet style and at no charge for anyone.  All are welcome.  In addition to the meal, a fellowship referral for other help will be available as well as a "listening ear" for those who have other needs, or wish to talk.