Visitor Information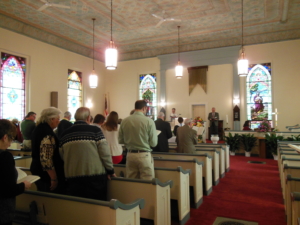 Worship is held at 11 am on Sundays with Christian Education classes from 9:30-10:30 am. During the summer months, worship begins at 10 am.  After the service, please join us downstairs in the Fellowship Hall for coffee and refreshments.
Children of all ages are welcome in the worship service.  We will provide age-appropriate activity sheets and coloring materials, if desired.  There is also  nursery space available on the first floor of the Education building, which is staffed from 9:15-12:30 on Sundays.
Plenty of parking is available next to the church buildings and cemetery..
For anyone considering membership, we hold periodic meetings to discuss our values and answer any questions about church life.  We are particularly interested to learn what passions and talents our new members bring with them!  Please contact our pastor,  Hilary for more information.